Seven Restaurants Earn New Grand Award Honors in 2010
Eat, Drink and Be Merry
Wine Spectator inducts its largest class of new Grand Award winners in nearly two decades
by Nathan Wesley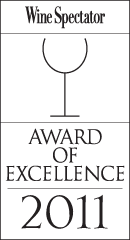 And 2,880 restaurants carry the Award of Excellence, the program's basic award, which honors a wine list of at least 100 well-chosen selections that are clearly presented and appropriately paired with the restaurant's cuisine.
The complete list of the 2010 award winners is featured in the August 31 issue of Wine Spectator. All of the restaurants can be found in WineSpectator.com's Restaurant Search, along with more extensive details about their wine selection, cuisine, prices and key staff.
Eat, Drink and Be Merry
Though times are tough, restaurants are strengthening their wine programs by broadening your choices
by James Molesworth
California (a strength on 2,382 of the lists we currently honor) and France (with 1,054) still dominate the overall scene. However, the rest of the world, led by Italy, along with regions such as Spain, South America, Germany and Austria, is catching up.
Olio e Limone restaurant in Santa Barbara, CA, is another example of the trend. A first time Award of Excellence winner this year, Olio e Limone provides diners with a 115-selection list that is two-thirds Italian and that moves beyond Tuscany and Piedmont with offerings from Veneto and Sicily. While co-owner Elaine Morello's wine list does give a nod to California wines, she is confident in its Italian emphasis. "We have a lot of regulars who are knowledgeable, and they love the [wine] list," she says.
Southern California's Wine Country Getaway
Santa Barbara County carries rustic charm with sophisticated pleasures
by Tim Fish
17 W. Victoria St., Santa Barbara Telephone (805) 899-2699 Open Dinner Daily Cost Entrees $13-$26 Although the name means "oil and lemon" – two simple key ingredients of southern Italian cuisine-there's nothing typical or plain about the food here. Chef Alberto Morello draws inspiration from all over Italy, but brings particular passion to Sicilian dishes such as the marvelous quaglie con salsiccia, polenta e caponata (roasted quails stuffed with sausage and served with polenta and Sicilian-style ratatouille). The small dining room is tasteful in its simplicity, and visible through a glass wall is the wine cellar, which includes plenty of collectable Italian wines like Gaja Sperss Barolo, as well as a handful of local favorites.